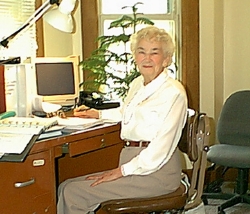 Virginia Babb

1908 - 2010

Secretary-

Treasurer

Emerita

Humorously referred to as our "Corporate Matriarch," Virginia Babb represented an important foundation for Ambulance Associates heritage.

"She was always there to encourage the growth of the firm," said son Richard, semi-retired, who now serves as CFO.  Retiring in 1969 after many years as an administrative office assistant with the Akron Public School System, she probably had no idea that 30 years later, she'd be taking care of logging, accounts payable duties, and some computer data entry.....in her 90's.

A resident of Springfield Twp, southeast of Akron, she had remained active apart from the one full day each week that she spent at Ambulance Associates, Inc.  Mrs. Babb maintained her large home in which she raised sons, Richard and Lowell, and in which she enjoyed her marriage to Roy Babb, who died in 1965, and a subsequent marriage to C. F. Pickton, also now deceased.

Quite familiar with the rigors of a family business as her father and several brothers operated Akron's A-1 Tire Shop on South Arlington Street, "she's given that push that all small businesses need from time to time to continue," said Rick.   During those many "struggling" years, whether the struggles were financial, personnel shortages, or rapidly changing technology, there were many opportunities to discontinue the operation.  "Fortunately," maintains Rick, "we did survive difficult times and have grown to occupy a powerful niche in the medical transportation sector of Central Stark County."  Virginia Babb worked in the Ambulance Associates office until the age of 96, when her failing eyesight made things more difficult.

"Thanks, Mom, for being there for us!